Lifts Hoists and Vehicle Transfer Solutions
Translide Vehicle Transfer System
The TRANSLIDE VEHICLE TRANSFER SYSTEM is used to transfer a client who can weight-bear, from a wheelchair to the seat of a vehicle.
The system can also be used to help position a client, or to help a client position themselves in a vehicle and also for normal chair and bed transfer and positioning.
The smooth slippery underside of pad and top cover of mat, ensures ease of movement to the desired position.
Clients are able to manoeuvre in a side to side, front to back and rotate to ensure exact positioning.
Soft foam and quilt construction ensures client comfort. The Pad also incorporates side handles to aid in standing transfers and positioning. Optional rear strap on both parts to twist and secure to rear of chair. Mat and Pad are washable (medium wash, drip dry).
Car Cane
Car Cane helps you get in and out of your car with ease! Car Cane is a portable handle that slides into your door latch and locks in place, the non-slip grip handle provides secure grip and the leverage you need to lift yourself up.
Withstands up to 350 pounds of pressure yet it's compact enough to be stored in door pocket or glove box. Features built-in flashlight. The Car Cane is ideal for seniors who suffer from body pain and stiffness, and anyone who has chronic pain due to a medical condition or is recovering from an injury. Car Cane can help prevent slips and falls.
Weight 320.0 g
Load Capacity (supplier stated) 158.0 kg
Length Overall 180.0 mm
Width Overall 65.0 mm
Milford Autochair Smart Lifter
LM Mini Hoists
The Mini-Hoist is available in 40kg and 80kg lift capacity models. It's designed to lift manual wheelchairs, including those with power packs and lightweight scooters. It can be fitted to most hatchbacks, wagons, MPVs and 4x4s. The Mini-Hoist is extremely versatile and lifts wheelchairs and scooters complete, dependent on the vehicle. Take apart or folding version available.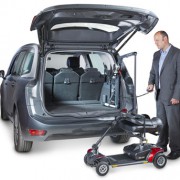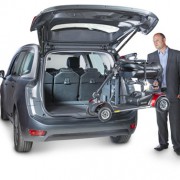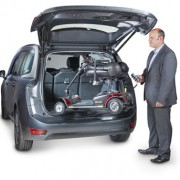 FEATURES
Lifts & Loads in 60 seconds
Easy to use
Lifts all types of mini scooters and wheelchairs
Manufactured in the UK
Over 300 vehicle specific installation kits
Lifts up to 80kgs
Transfer easily to your next vehicle
Milford Autochair Smart Lifter
LC and LP Hoists
The Olympian Hoist comes in 100kg, 150kg & 200kg weight capacity models. It is designed to lift larger (wider, longer, heavier) scooters, wheelchairs and owner chairs
The Olympian hoist is fully adjustable in height, reach and spread.
With advanced engineering and superb design, an Olympian Hoist is adjustable and capable of lifting a diverse range of scooters, wheelchairs and powerchairs into your car.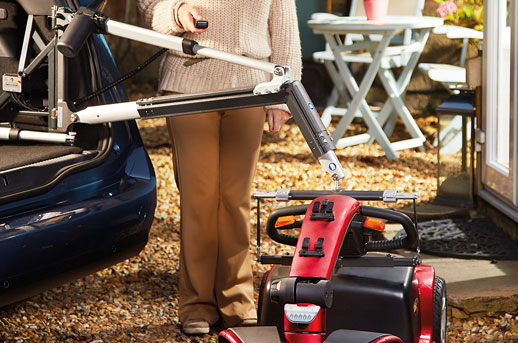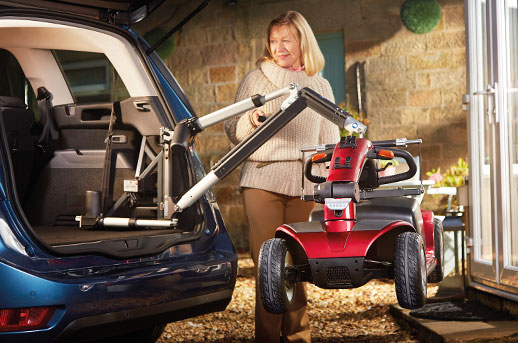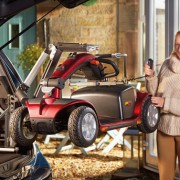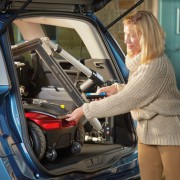 FEATURES
Lifts & Loads in 60 seconds
Easy to use
Lifts all types of scooters and powerchairs
Robust & versatile construction
Over 300 veh8icle speciic installation kits
Lifts up to 200kgs
Transfer easily to your next vehicle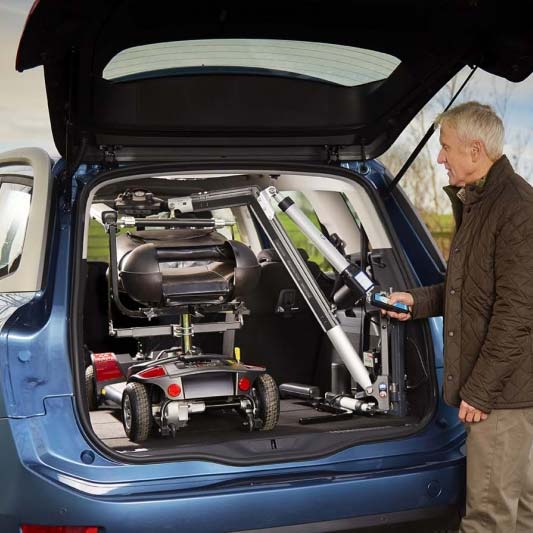 WYMO Wheelchair Hoist
A roof mounted hoist designed to lift a folded manual wheelchair from the ground adjacent to the car upwards and onto a rack on the roof. The hoist is fixed to the roof gutters in a manner similar to a car roof rack. The wheelchair can be loaded and unloaded independently by the wheelchair user. Now available in a model with a vinyl cover
Features
Weight Overall 26.0 kg
Load Capacity (supplier stated) 50.0 kg
Weight 16.0 kg
Width Overall 750.0 mm
Model Wymo Accord Wheelchair Lift: Roof Mounted with Vinyl Cover
Weight 16.0 kg
Weight Overall 26.0 kg
Load Capacity (supplier stated) 50.0 kg
Width Overall 750.0 mm
The Wymo Wheelchair Hoist
Loads the wheelchair safely and securely onto the roof of the car
All Wymo Wheelchair Hoists come standard with a fail safe inertia reel , making the Wymo Wheelchair Hoist fool proof.
The hoist provides the gift of independence to a driver who needs a wheelchair in their daily life
The hoist reduces the need for careers that otherwise are required to carry and load the wheelchair into the car.
The Wymo wheelchair hoist frees the space in the car for travel, groceries and passengers·
The Wymo Wheelchair Hoist is vital for a carer/driver who needs to lift a wheelchair safely, without risk of shoulder and other related injuries.
Milford AutoChair Smart Transfer Person Lift
This lift has been designed for lifting people from their wheelchair into a car and out again. The mounting post can be fitted to enable the lift to be used on the passenger or drivers side. It can be operated by a helper or the user by use of a small control box on a flying lead. Once the person has been lifted. The lift can be upgraded to a heavy duty option to lift up to 149kg.
Weight Overall 8.0 kg - 13.0 kg
Load Capacity (supplier stated)

150

 kg
Range of Lift 406.0 mm
The Milford is manufactured in lightweight aluminium. The body of the lift weighs only 8kgs, whilst retaining great strength. People with limited mobility should consider a Milford Person Lift before incurring the costs of wheelchair accessible vehicles.
The Milford Person Lift is designed to lift a person, safely and without putting strain on the carer/ operator or person being lifted.
FEATURES
Specialised hoist with pivoting points to move a person easily between a wheelchair and a vehicle
Can be installed in any 2-door car and most 4-door cars
Suitable for both driver and passenger doors
Can be operated solo, or by an attendant or carer
Optional mounting bracket for in-home use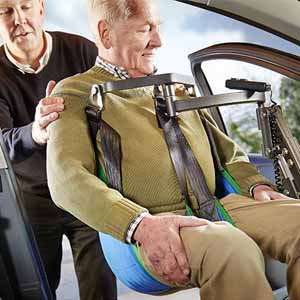 Burr Handy Lift
Steps are no longer a problem when accessing your caravan or recreational vehicle with the Burr Handy-Lift!
This platform lift provides everything you need to make entering your recreation vehicle a breeze. Just press the switch and the Handy-Lift will easily lift you up to 30 inches at a safe lifting speed. The Handy-Lift platform folds and locks away for traveling, and there is an emergency crank handle in case of battery failure
Features:
12 volt DC power supply
Black powdercoated for extra protection
Mounting brackets included
Cable control
Lifts up to 136 kgs up to 75cm in less than a minute (not designed to accommodate wheelchairs)
Vertical stroke lengths of more than 75cm are available by special order
Pool and Spa Hoists
The Wymo Pool and Spa Access Hoist gives the user the freedom to enjoy the simple pleasure of a summer swim or a relaxing spa. Hydrotherapy can also be very beneficial for many who have physical disabilities. The pool and spa hoist provides accessibility to the aged and people with minor to severe physical disabilities and are available in carer operated models only.
The seat is positioned so that the user can transfer to the spa and pool hoist. Once they have transferred, the seat is pivoted around the post and over the water by the carer before lowering into the water by the winch operated by use of a hand control unit. The hoist is then lowered into the spa or pool at the right depth for the user.
The WYMO Pool Access Hoist is a low cost option for access to a pool. It is the perfect choice for private customers on a strict budget and it is the perfect solution for compliance to the Building Code Of Australia (BCA). This hoist has a safe working load of 140Kg and a static load of 210Kg which makes it fully compliant to the code.
Features
SWL 140Kg
Static Load 210Kg
Primary fail safe through motor 24 volt operation,
batteries included Mains charged Stainless Steel construction,
powder coated Light Grey
Easily disassembled for storage Winch tested to 600Kg
Shock load suspension
The WYMO Universal Sling Hoist
The Universal Sling Hoist has universal applications; Wymo Lifting Aids manufactures this hoist for use lifting a patient into Pool or Spa as well as a bed or bath. The fact that this hoist is anchored to the ground gives the possibility of reaching over a pool etc for easy, safe and smooth access for all of the above requirements.
The Universal Sling Hoist has a winch and a jib with an adjustable spreader bar. It is certified to lift 140kg and is solar charged as well as mains charged. This hoist is vital for those who cannot sit easily in a pool hoist with a seat.
The building code of Australia requires a sling hoist within 136kg safe working load capacity and 210kg static load capacity. The Universal Sling Hoist is compliant to the BCA requirements (download certification pdf) 
The Universal Sling Hoist is an important option for situations where it is impossible to use a mobile sling hoist. It has a 3 metre travel and a 800mm reach. It can be used for above ground pools and spas as well as inground pools and spas.
Features
SWL 140Kg Static Load 210Kg
Primary fail safe through motor 24 volt operation,
Batteries included
Solar Charged and mains charged Stainless Steel construction,
Power coated Light Grey Easily disassembled for storage
Winch tested to 600Kg
2 year parts warranty
Compliant to the Building Code of Australia 3:10
Stair Lifts
GP Medical have access to the Acorn range of Stairlifts. Acorn offer a range of slimline, battery operated stairlifts for straight and curved stairs.
The straight stairlift is available with a standard seat, a sit & stand model.
The curved stairlift is for indoor seated use only. It has a rack & pinion drive and the track is stair mounted and features an onboard diagnostic control panel.
Straight models are available for both indoor and outdoor use.
The weight capacity on all indoor and outdoor models is 127 kg.