Wheelchair Add-On Power Options
All power add-on drives can be retrofitted to an existing wheelchair with a special bracket and some minor modifications. This allows almost any manual chair to be converted into a lightweight powered wheelchair whilst retaining the characteristics of a manual chair.
Alber e-Motion
The e-motion is a power-assisted wheel which is mounted onto your wheelchair in place of your manual wheel.
Electrical wheel hub supports the propelling movement
Pushing and braking is realised as usual with the push rims
Gradients and longer stretches are mastered with minimal power expenditure
Individual driving-characteristic programming options
Keep active
Suitable for the majority of manual wheelchairs
A manual wheelchair with extra thrust.
Gearless drive technology and the exceptionally low noise level, you can get to where you want to discreetly and quietly.
e-motion has electric motors integrated in the wheel hubs to support the wheelchair driver's pushing force.
Each pulse on the push rim is detected by e-motion's intelligent sensors and converted to precisely the required degree of power assistance.
With this extra thrust, even long distances, ramps or slopes can be overcome without having to rely on a helper.
e-motion even lets you go downhill: its power assistance boosts the braking pulse, so that driving down a steep slope is not only safe but also a relaxing experience.
The energy for this purpose is supplied by ultra high-power lithium-ion batteries, so that a wide radius of action and unprecedented durability are guaranteed.
SPECIFICATIONS:
Maximum Speed 6km/h
Weight (without chair) 24kg
Maximum Range 12km
Heaviest Component 10kg
Weight Capacity 120kg
Alber Twion
The twion is the fastest and lightest push-rim drive in a modern design featuring smartphone connectivity.
The active drive offers new freedom for wheelchair drivers. The compact and silent wheel hub drives with built-in lithium ion batteries ensure greater propulsion force on push-rim wheels.
Moreover, the twion drive wheels are suitable for almost all common active wheelchairs. This is made possible by the small, lightweight bracket that is simply fitted to the wheelchair. With the convenient quick-release system, both the manual wheels and twion drive wheels can be used, meaning that the required drive type, manual or with E Power, is available at all times.
Dynamic propulsion assistance up to a speed of 6km/h (optionally 10km/h)
Easy to transport and load since each drive wheel weighs a mere 6kg
Lithium ion battery technology – lightweight and with a long service life
The EasyConnex magnetic charging connector automatically finds the correct position for insertion
Highly efficient digital electronic direct drive featuring energy recovery to achieve a greater range
All information and driving programmes on your Android smart phone including innovative feature such as BlueDrive remote control
WORLD FIRST BLUEDRIVE.
The innovative BlueDrive function allows wheelchairs equipped
with twion drive wheels to be remotely controlled by Smartphone*
The integrated inclination sensors ensures that a slight tilt
of the Smartphone in the required direction of travel sets the
wheelchair in motion. A virtual joystick is available as an
alternative means of control
SPECIFICATIONS:
Weight per wheel from 6.0kg
Speed up to 10km/h with Mobility Plus package*
Range 12-20km
Connectivity Bluetooth (Android Smartphones)
Battery technology maintenance-free lithium-ion cells, 36 months warranty
Alber e-Fix
The E-Fix is the electrical add-on drive for your wheelchair! It allows the user to cover longer distances quickly and easily. The conversion is very easy. Just swap the drive wheels and install the battery pack and control unit
The E-Fix comes in 4 models, in two weight capacities: E25/E35 (120kg) & E26/E36 (160kg)
Converts any manual wheelchair into a highly efficient electric wheelchair
A quick twist of each motor hub is all that is needed to convert the wheelchair from manual to electric operation and back again
Wheelchair can still be folded or operated manually without removing the E-Fix
SPECIFICATIONS
                   E35                                     E36
Battery pack
36 V, 6.0 Ah, 216 Wh
36 V, 7.5 Ah, 270 Wh
Battery charger (input)
90 - 240 V AC
90 - 240 V AC
Battery charger (output)
45 V DC
45 V DC
Operating voltage
36 V
36 V
Speed
0.5 - 6 km/h (0.4 - 3.7 mph)
0.5 - 6 km/h (0.4 - 3.7 mph)
Motor rating
2 x 110 W
2 x 150 W
Climbing capability
up to 20 % restricted to wheelchair model
up to 15 % restricted to wheelchair model
Range per charge
up to 16 km (9.94 miles)
up to 20 km (12,42 miles)
Wheel dimensions
22" and 24"
24"
max. user weight
120 kg
160 kg
max. permitted total weight
170 kg (375 lb)
210 kg (463 lb)
Weight of components:
Battery pack
2 kg (4.4 lb)
2 kg (4.4 lb)
Drive wheel
7.8 kg (17.2 lb)
8.0 kg (17.6 lb)
Joystick control unit
0.6 kg (1.3 lb)
0.6 kg (1.3 lb)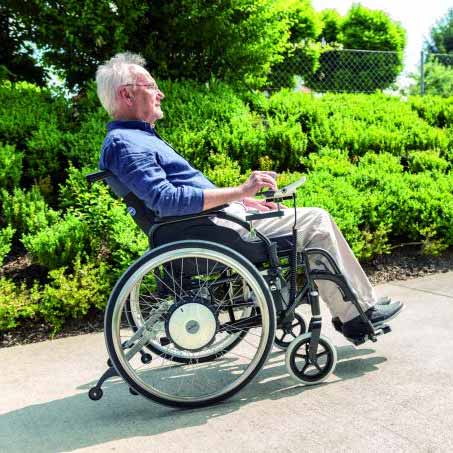 Light Drive 
Suitable for nearly all wheelchair users, the Light Drive turns manual wheelchairs into ultra light power chairs in a matter of seconds.
A power assist device for rigid frame and folding manual wheelchairs. The Light Drive is controlled with a joystick.
A pair of hook plates and a joystick bracket are fixed to the wheelchair. The wheelchair can be folded as normal.The motor tube rests on the wheelchair's rear wheels and an anti tip wheel is included.
Models available to suit adult and paediatric size wheelchairs.
Not compatable with solid tyres, castors should be greater than 152mm in diameter
Face almost any terrain or situation independently or with friends and family. The Light Drive's simplicity means that journeys are much easier. The Light Drive gives you the independence to go where you want at your own pace.
ADVANTAGES OF THE LIGHT DRIVE.
The Light Drive is controlled with a joystick and yet remains as manoeuvrable and as easy to use as a manual chair. By releasing the clutch you can free wheel giving you the choice when to use it.
It gives you the freedom to climb hills with no effort, coast across grass, sweep along gravel paths, in short, most things pedestrians can do.
Models / Specifications
Model Light Drive - Standard: Attachable wheelchair power pack
Load Capacity (supplier stated) 100 kg (for optimum performance, but can go up to 120 kg (19 stone).)
Speed 0 kph - 10 kph
Model Light Drive - Lightweight: Intended for users weighing less than 55kg who use their chair on 'normal' terrain.
Load Capacity (supplier stated) 55 kg (when chair used on 'normal' terrain.)
Weight of Battery Pack 3 kg - 8.5 kg (Multiple battery types)
Climbing Grade (angle) 12 degrees (For a user weighing 70kg)
Diameter of Rear Wheel 24 inch (610mm )
Speed 0 kph - 10 kph
Merits Power Pack
Add a motor to your manual wheelchair, simple attachment, easy quick release removal. Works with most manual wheelchairs.
Twin-wheel design with 136kg weight capacity
Easy to attach to any wheelchair, simply walk behind with your thumb on the control and let the power-pack to do all the work
With speeds up to 5.5kph and a range of up to 16km there is more than enough capacity for most days out
Light enough to take anywhere, packing neatly and enabling the extra mobility anywhere
Designed to give maximum attendant assistance