HoverJack Evacuation and Evacuation II
The evacuation Hoverjacks are designed to be used for safe and efficient stairwell evacuation in hospital and pre-hospital environments.
The specially designed safety straps and foot-end pouch hold the patient securely while being transported down stairs, and the replaceable Teflon® coated bottom allows the device to be used across most surfaces. A weight capacity of 544 kgs. for vertical lifting and 320 kgs. for stairwell evacuations accommodates most patients.
When used in conjunction with the HoverMatt Air Transfer System, a seamless solution is presented for lateral transfer from bed or floor to the Evacuation HoverJack II, and on to the ambulance stretcher in preparation for transport. When inflated, a cushion of air beneath the HoverMatt reduces the force needed to move the patient by 80-90%, while also reducing patient skin shear and bruising.
Bariatric EvacMat
The Bariatric EvacMat is designed for the safe evacuation of bariatric and large individuals from locations such as hospital wards or other public or private buildings in the event of an emergency.
It has a tough slippery base allowing it to move easily over indoor and outdoor surfaces for horizontal or vertical evacuation of bariatric and large individuals.
Specifications
• Packed: 64 x 37 x 32cm
• Unrolled: 220 x 60cm with two side wings 90cm each
• Base: 5mm polyethylene board 200 x 61cm
• Product weight: 8kg
• Material: Vinyl
• Colour coded webbing straps with plastic buckles
Weight Limit     350kg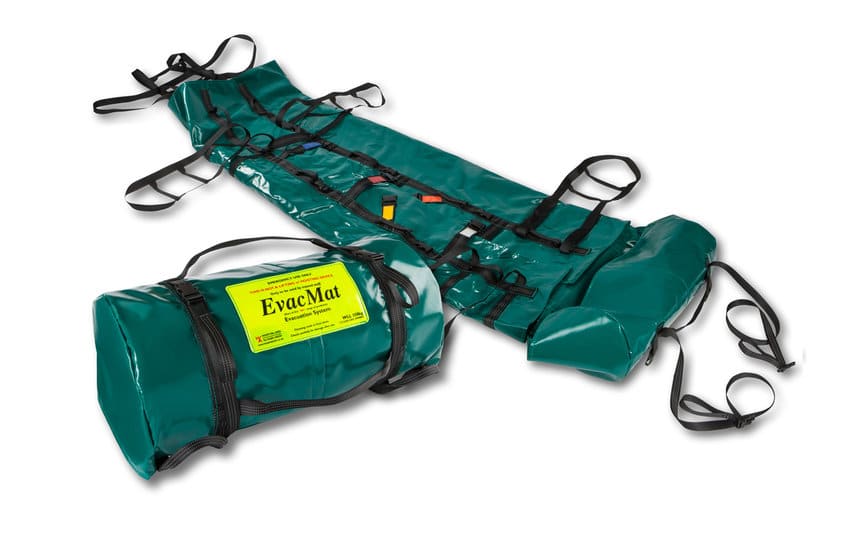 Bariatric Equalising Abdominal Restraint (BEAR)
The BEAR (Bariatric Equalising Abdominal Restraint) helps bariatric patients to feel stable, comfortable
and safe when being moved and reduces the risk of manual handling injuries.
The BEAR attaches to conventional ambulance cots and longboards and stabilises the large abdominal mass of bariatric patients. With the abdominal mass stabilised relative to the cot, the cot is more manoeuvrable and less likely to tip.
Attaches to a common long backboard, ambulance cot, and a bariatric cot
Mesh fabric
Can be used in a variety of different situations
Chemical resistant, UV resistant, and may be washed with soap and water
Bursting strength of 536 psi
Tensile strength of 340kg
Evacuation and Slide Ski Sheet
The Evacuation and Slide Extension is an Emergency Evacuation Slide Sheet/Ski Sheet that has been manufactured with longer drag straps so that the rescuer can drag from an upright position.
Specifications
Can be laundered in an industrial washing machine up to 65°C and then line dried
Teflon-coated base is designed to ensure ease of movement along carpet and linoleum
200kg weight capacity
The AlbacMat™ can be put quickly to use to remove patients from a dangerous situation e.g. Fire. The Polypropylene board enables the AlbacMat™ to 'glide' over surfaces (including carpet), minimising the effort required by rescuers to evacuate patients. In extreme cases two people may be required to pull a patient, however the AlbacMat™ encourages one person per patient. This potentially halves the time taken to evacuate a facility. The polypropylene board acts an insulator to the patient, absorbing the concussion of travel and is also heat resistant to 85 degrees Celsius—making it safe to use in extreme heat
Weight Capacity    475kg
Evacuation Pod
Designed to easily and comfortably evacuate the dependent client away from an area of risk.
The client is securely enveloped in the Pod, which has a padded base, head support and two leg and body belts. The underside of the Pod features a "super slippery" material which enables the client to be easily evacuated over any floor surface.
The Pod is easily manoeuvred by carers using the long and adjustable straps at either end, whilst maintaining an upright position themselves. Pod design allows quick and easy transfer of client into and out of Pod.
 Pool Evacuation Pod
The Pool Evacuation Pod is similar in size and design to the standard Pod, but it's outer fabric is mesh, allowing water to flow easily through when removing from the water.
Shorter straps are also used on this device for ease of use in a pool setting.
The foam base is closed cell foam (will not soak up water) and floats. This is easily floated under the patient, the mesh wings are then strapped around the body for security and the patient then floated to the edge of the pool or ramp.
The straps are then used to slide the patient up over the side or up the ramp, easily done with base material being heavy duty slide sheet. The pod will drain quickly due to the mesh outer flaps.
Fully Washable and lightweight.
NOT FOR USE ON STAIRS OR OTHER DECLINES.
SWL 127kg